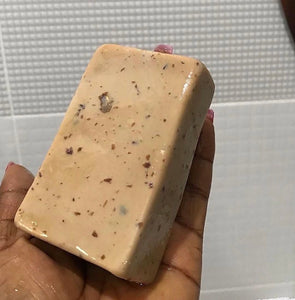 Bring you skin's natural glow to life with our oats and honey shea butter. With oats soaking up excess moisture and unclogging the pores while honey soothes rashes, our shea butter soap cleanses while tackling your skin's everyday problem. The results are hydrating, skin rash reduction, nourishing, and removal of dead skin cells. 
How to use: Suitable for face and body. Lather the soap in your hands or exfoliating tool and wash entire body and face. Follow up with any of our Whipped Shea Butter for moisturized and golden glow.
Ingredients:  shea butter + coconut oil + oats + pure honey
For external use only. Keep dry between uses.
Skin Type: All skin types