SKIN BY SOGO
Our vision is to not only create an environment which embodies diversity, inclusivity, empowerment, and the pursuit or celebration of your individualism through skin and hair care, but to also circulate an increase in wealth and independence for the sedulous women of Guinea - who strive every day to provide us with the perfect Shea Butter.
WHAT THEY'RE SAYING
"I first purchased Skin by SOGO for the intended purpose of moisturizing my feet- which gets extremely dry during the winter time. I have tried almost all feet products for moisture but nothing seemed to do it. The first time I put on Skin by SOGO, it literally changed everything. The smell is amazing, the texture, and the moisturize is long lasting. Now I transitioned from using it on my feet to using it for my body."

Catherine V.
I'm super low maintenance so I bought this as a multipurpose product and it has been living up to its expectations. The butter has helped seal moisture in with my eczema prone skin, alleviate and fade stretch marks on my growing belly and restore my glow. The butter is pretty thick so I only use it twice daily.

Malika G.
I purchased both SO Glowrious and SO La Vie whipped shea butter. I like the light scents the butters have, as well as the texture. The butters are not overly greasy and penetrate the skin surfaces. I have dry skin and overtime I've noticed my skin become much more softer and moisturized."

Adizatou S.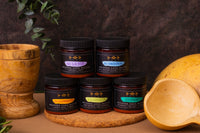 GO EARTH
Skin by SOGO is dedicated to a radiance that glows from outside to within with our all-natural products for your body but we also desire our environment to be just as radiant. We have one Earth and it is our job to protect it as a community. Recycle with us and be a part of GO Earth's effort towards a cleaner earth.
Find Out More